There seems to be some resistance and misunderstanding from the journal editor and academic community on outcome switching, so we thought it would be useful to give an overview of what various authoritative bodies have to say on the topic. In this series, we will cover CONSORT, the FDA, ICMJE and the Word Of God. Today, we look at ICMJE.
The International Committee of Medical Journal Editors (ICMJE) includes the BMJ, JAMA and Annals of Internal Medicine, and its primary aim is to improve the reporting quality of medical science.
Their recommendations on the conduct, reporting, editing and publication of research are endorsed by a significant number of top journals, including the Lancet and NEJM. Clarification of the these recommendations might therefore shed some light on the resistance or misunderstanding shown by some editors when addressing outcome switching.
In terms of results reporting, all the ICMJE recommendations ask for is the 'data on all primary and secondary outcomes identified in the Methods Section.'; no mention of pre-specification of outcomes. Perhaps the ICMJE does not consider this important?
It is only when you consider the ICMJE recommendations on registration of clinical trials prior to the patient enrolment that the rationale for pre-specification becomes clearer.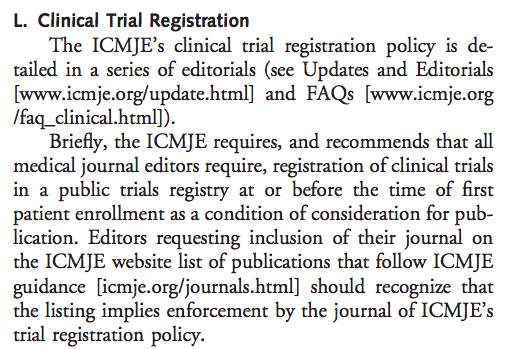 ICMJE accepts registration in any registry that is a primary register of the WHO International Clinical Trials Registry Platform (ICTRP) or in ClinicalTrials.gov, and deems a registry acceptable when it includes the minimum 20-item trial registration dataset: items 19 and 20 required the primary and secondary outcome measures to be stated.
Journal editors have collectively gone on the record to assert the need for registration prior to publication. In a 2007 editorial, ICMJE editors also stated trial registration with 'missing or uninformative fields for the minimum data elements is inadequate.'
So, If I have this right, authors must register their trial in a named registry including pre-specified primary and secondary outcomes – as part of the mandatory 20 data items – and if they don't include these items in sufficient detail then the registry is deemed inadequate.
The logic of the ICMJE requirements for registration, which 'aims to increase public trust in medical science' is therefore to act as the public record for outcome specification, amongst other data items. Indeed, the ICMJE clinical trial registration policy states the purpose of registration is to prevent selective reporting of research outcomes. If editors don't want to use the registry entry as a record of pre-specified outcomes, then what should we think of the ICMJE recommendations they all endorse?
The next blog in the series will look at – What does CONSORT say?